VI Club Renault 5 GT Turbo Meeting
This meeting was the one the that resulted into the formal creation of the Madrid Renault 5 GT Turbo Club. People who came could join the club by filling the forms we prepared.
This meeting was the actual sixth meeting of the club, on Juny the 21st, 1998. Next to the Casa de campo lake, there's a big sand parking, where people was supposed to came at 11:00. There we aimed to connect all the GT Turbo nutters and lovers, make friends, meet people, chat about our passion and comment our stories... There were 26 GT Turbos there. The advertisings that we had planned into some local magazines didn't come in time, so this was only the people we managed to put a little note in the windscreen wiper, or via Internet. Anyway there it came my friend Sylvain from France, Fae and another car from Barcelona...
After concentrating and meeting all people, we had planned to travel to have lunch to Navalperal de Pinares. We had prepared a roadbook that we distributed to everyone: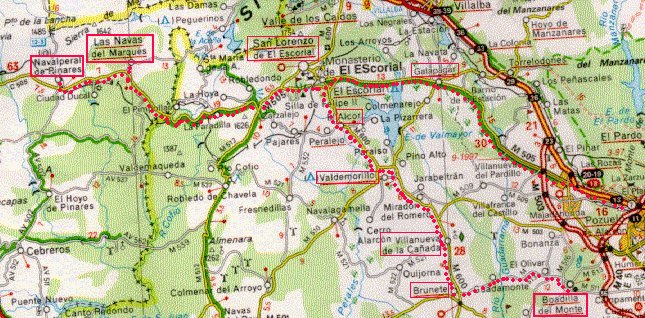 Fist part: How to get to the lunch
Time
Partial
Total
Place
Comments
11:00
Madrid. Casa de campo.
Meeting
12:30
0
M-30
Dir. N-VI
3
N-VI
Dir. Las Rozas-El Escorial
16
N-VI
M-505 Dir. El Escorial
33
Galapagar
M-505 Dir. El Escorial
46
El Escorial
M-505 Dir. Avila-Robledo de Chavela
53
Desvío
Dir. Puerto de la Cruz Verde
73
Puerto de la Cruz Verde
Dir. Avila
14:00
74
Las Navas del Marqués
Aperitif. Restaurante Magalia.
14:45
82
Navalperal de Pinares
Park at town entry.
Lunch. Mesón La Parra
| | |
| --- | --- |
| The travel was nice, although only eleven cars decided to come. It was Sunday and there was too much traffic to enjoy properly the mountain roads that took us to the lunch zone. In addition to this, there was a little misunderstanding in the roadbook that drove some people in a little different way.Anyway, we managed to arrive to Las Navas del Marqués, and parked there in a long row. The problem was that, instead of taking our aperitif, what we did was an incredible assistance: one of the cars coming from Barcelona (600 km away!) blocked a driveshaft there. | |
| | |
| --- | --- |
| | Fortunately among us there were some mechanics and lots of tools. The good luck allied with the man, because not far away of the place, one of us had a relative that had a GT Turbo to sell by pieces, and in a quarter of hour, a second hand driveshaft was there. Next to the road, a fast change and... ready! The poor man had to work on monday morning, and was 600 km away from home, on sunday with all shops closed... he couldn't believe he had had so much luck and decided to go home immediately! |
Once we had lunch, we made a raffle. We had given a small number with each inscription, and we had a club T-shirt, a set of dials and a Gr. N manual to raffle among the people that were there.
Then we went to try some karting. The trip was covered by the second part of the roadbook:
Second part: How to get to the kart track
| | | | | |
| --- | --- | --- | --- | --- |
| Time | Partial | Total | Place | Comments |
| 16:30 | 0 | 82 | Navalperal de Pinares | |
| | 8 | 90 | Puerto de la Cruz Verde | Dir. El Escorial-Madrid |
| | 35 | 107 | El Escorial | M-600 Dir. Valdemorillo-Navalcarnero |
| | 42 | 124 | El Alcor | M-600 |
| | 49 | 131 | Desvío Valdemorillo | Don't take it, go on M-600 |
| | 68 | 150 | Villanueva de la Cañada | M-600 |
| | 74 | 156 | Brunete | M-513 Dir. Boadilla del Monte-Madrid |
| 18:00 | 86 | 168 | Boadilla del Monte | Kart track |
The karts are a good experience to have. They give you sensations of the like of the F1, without no suspension, a good lateral grip, the direct steering and riding so low without any body. We tried the semi-competition ones, only 5.5 bhp, but we had a good time! You just have to realize the steering wheel goes completely different that the GT Turbo!
And that was all! A trip of 600 km for some cars before being home, the last drink at Madrid for some, and the return home for the rest.