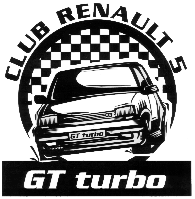 What's the Club Renault 5 GT Turbo?
In Madrid, Spain, some people had been trying to organize a club of GT Turbo nutters for some time. They were the ones that made the July'97 GT Turbo meeting at Jarama track. I met them later on, in January 1998, and we tried to formalize the club.
At the VI Meeting at the Casa de Campo lake, on June'98, we started the the actual inscription of members of the club.
The last one was the VII Meeting at the Casa de Campo lake, in March'99.
What are the advantages of being a member?
Members only pay a yearly small fee of 500 pts (3 Euros) to cover the expenses of the member card, etc... and get advantages and reductions in some racing shops. In addition, they're periodically informed of meetings, can contact easily...
How many members has the club?
By the moment, we're 33. One is french and has came back to France, there are some who came from Barcelona (600km away!) or the Basque Country (400km away!) only to attend the meeting, but the rest lives in Madrid. We're open to new members.